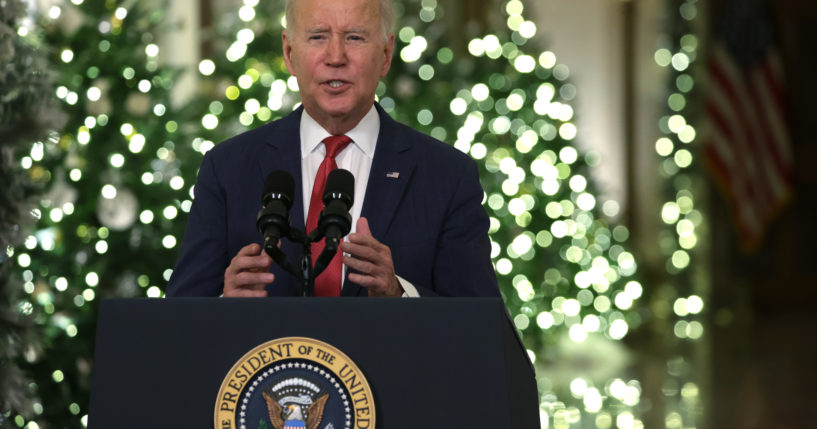 WASHINGTON, DC – DECEMBER 22: U.S. President Joe Biden speaks as he delivers a Christmas address in the East Room of the White House on December 22, 2022 in Washington, DC. President Biden gave the address to wish Americans a happy holiday. (Alex Wong/Getty Images)
Critics mocked President Joe Biden after he called for "unity" while delivering a speech ahead of Christmas.
While speaking from the White House on Thursday, Biden said, "So, my hope this Christmas season is that we take a few moments of quiet reflection, find that stillness at the heart of Christmas…and look really look at each other, not as Democrats or Republicans, not as members of Team Red or Team Blue, as who we really are, fellow Americans, fellow human beings worthy of being treated with dignity and respect."
He continued, "I sincerely hope this holiday season will drain the poison that has infected our politics and set us against one another. I hope this Christmas season marks a fresh start for our nation, because there's so much that unites us as Americans."
According to the president, "So much more that unites us than divides us. We're truly blessed to live in this nation. And I truly hope we take the time to look out for one another not at one another."
Watch Biden's speech below:
Several took to Twitter to react to the speech.
Actor Rob Schneider wrote, "Well, President Biden… You lead the divisive ugliness last year with your Christmas gift of disunity and fear speech… 'For the Unvaccinated this will be a winter of Death!'"
Another user tweeted, "Hmmmmmm I wonder how that happened and who has been fueling it for the past 7 years?"
One tweet stated, "Obama Playbook: Spread hate and division at every turn, then count on the MSM to spin you as a man of peace."
See more tweets below:
The speech comes just months after Biden went after MAGA Republicans during a speech at Philadelphia's Independence Hall in front of a dark red backdrop, as IJR reported.
"Too much of what's happening in our country today is not normal. Donald Trump and the MAGA Republicans represent an extremism that threatens the very foundations of our republic," Biden said at the time.