Florida Rep. Matt Gaetz has officially nominated President Trump for Speaker of the House
President Trump posted a photo to Truth Social depicting himself as Speaker of the House after Freedom Caucus Rep. Matt Gaetz voted for him to command the gavel and prominent conservatives voiced their support for a Trump speakership. Since voting kicked off on Tuesday, establishment leader Kevin McCarthy has failed time and time again to secure the 218 votes he needs to become Speaker of the House, leaving Congress in limbo as he refuses to step aside for the speaker that the American people and their representatives are demanding.
Trump can be seen in the doctored photo he posted to Truth Social sitting behind Joe Biden and to the flank of Kamala Harris, in the Speaker's chair.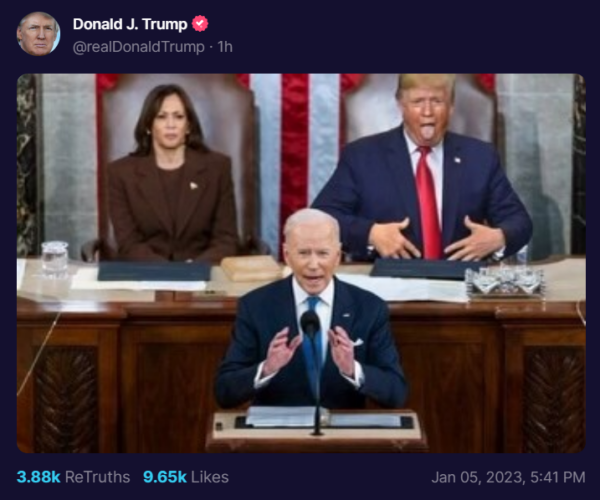 After Kevin McCarthy has failed over and over again, even with President Trump's endorsement, to be elected Speaker of the House, momentum is growing to nominate and elect President Trump for the position, and a growing number of conservatives are publicly saying that he's the only man for the job.
Constitutionally, the Speaker of the House is not required to be a member of Congress.
Florida Rep. Matt Gaetz, a staunch opponent of Kevin McCarthy, has voted for and officially nominated President Trump for Speaker of the House, rising to give an invigorating floor speech in the process.
Watch Rep. Gaetz nominate President Trump for Speaker of the House below:
Following Gaetz's earlier vote for the 45th President as a speaker, before he made the official nomination, Steve Bannon backed Trump for the gavel.
"It's all about money and power. That's why right now we have to stand up and say 'no, it can't be McCarthy. If it can't be McCarthy, then who's it gonna be?'" Bannon said Thursday.

"My vote, is Trump. Bring him in for 100 days, let's start the negotiations, let's do the debt ceiling, spend less. Get it up front, do it now. Let's lance the boil, let's get down to what's really important and stop playing games."
This story is developing. Stick with National File for updates.
SOURCE: https://nationalfile.com/speaker-trump-president-trump-floats-speakership-in-truth-social-post-as-mccarthy-continues-to-fail/