Accused crotch-pummeler and self-proclaimed conservative thought leader, Matt Schlapp is funded by left-wing globalists and neo-cons.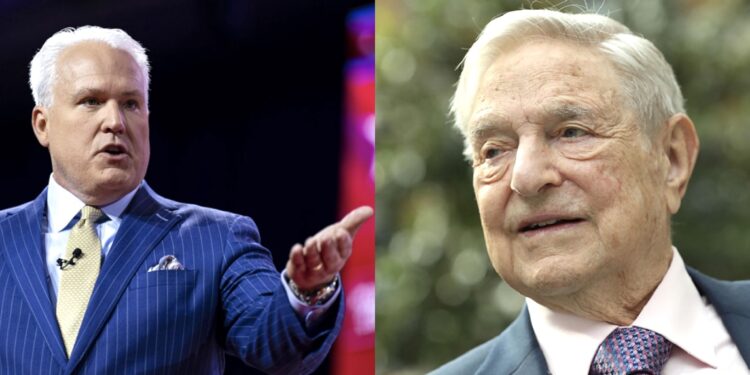 The Conservative Political Action Conference (CPAC) and its American Conservative Union (ACU) parent organization are funded by globalist Nazi collaborator George Soros, Big Tech oligarch Mark Zuckerberg, and the neo-con Koch brothers, financial documents reveal. This news comes on the heels of crotch-pummeling accusations against Matt Schlapp, the ACU and CPAC Chairman who's been accused of sexually assaulting a male GOP campaign staffer.
Accused crotch-pummeler Matt Schlapp and his American Conservative Union, the owners and operators of CPAC, are receiving massive funding from groups directly tied to and funded by globalist billionaire George Soros and Big Tech oligarch Mark Zuckerberg. In 2020 alone, the Soros-funded New Venture Fund gave six figures worth of cash to Schlapp and the ACU, handing them a whopping sum of $183,250.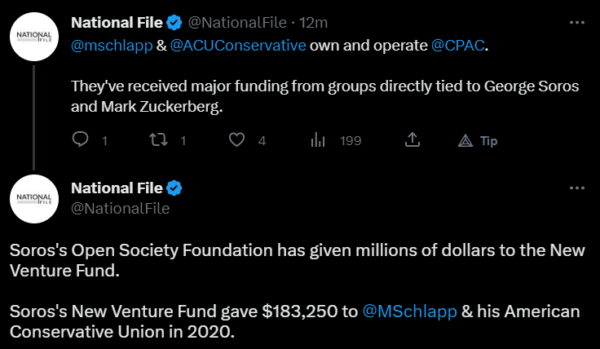 What's more, is that the Soros-backed, CPAC-funding New Venture Fund has a "sister" organization called the Sixteen Thirty Fund which, naturally, backs left-wing pro-Biden groups. The Sixteen Thirty Fund is so sketchy, and so influenced by foreign nationals and foreign pocketbooks, that even The New York Times criticized it over its ties to the Wyss Foundation, a left-wing dark money group.
The Times has reported that The Wyss Foundation and its Swiss billionaire benefactor, Hansjörg Wyss, have "quietly created a sophisticated political operation to advance progressive policy initiatives and the Democrats who support them," and described the associated Sixteen Thirty Fund as one of the "leading dark money spenders on the left."
In all, the Sixteen Thirty Fund, which is directly related to CPAC's Soros-backing, gave more than $63 million to anti-Republican, pro-Democrat super PACs in the 2020 election cycle.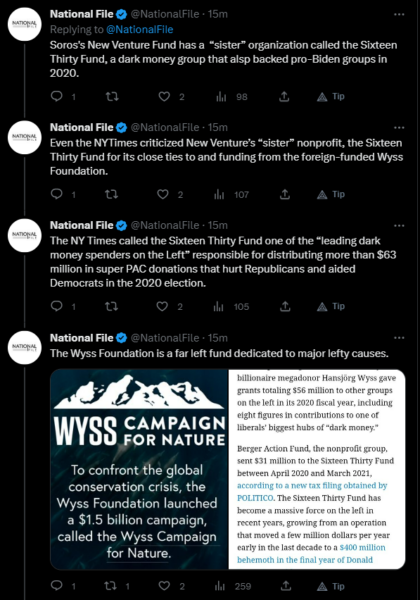 George Soros isn't the only left-winger who's bankrolling accused crotch-pummeler Matt Schlapp, the ACU, and CPAC.
Facebook founder and Big Tech oligarch Mark Zuckerberg, who's been a ringleader of anti-American censorship and de-platforming campaigns, also boasts similar financial ties to the supposedly conservative groups and their figurehead.
Zuckerberg's wife, Priscilla Chan, has given the American Conservative Union big dumps of cash that range from $10,000 all the way up to more than $1.2 million, combining to equal multiple millions of dollars worth of funding.
This left-wing funding of Matt Schlapp, the ACU, and CPAC, is in addition to longtime financial backing from the Koch brothers, the establishment moneymen who have been at the center of anti-America First campaigning and bankrolling within the GOP.

The revelations of CPAC's left-wing financial backing come as the event's chairman, Matt Schlapp, faces accusations that he sexually assaulted a male campaign worker during Herschell Walker's George Senate race.
National File's Patrick Howley has sat down for an exclusive interview with Schlapp's accuser, Carlton Huffman, as Schlapp and his team of lawyers scramble to discredit him and attack his character. Among other things, Huffman has produced incriminating text messages and a time-stamped screenshot of a phone call from Schlapp, and a video clip that he recorded the very night of the alleged sexual assault, describing what happened to him.
"I just want to say it clearly and unequivocally so that I have video proof," a visibly emotional and traumatized Huffman said in the video. "…Matt Schlapp of CPAC grabbed my junk and pummeled it at length."
Watch an EXCLUSIVE preview of Patrick Howley's interview with Matt Schlapp's sex assault accuser Carlton Huffman below:
Original Article: https://nationalfile.com/cpac-is-funded-by-george-soros-mark-zuckerberg-and-the-koch-brothers/